Location
Archerfield, Queensland, Australia
Price
$​
4,800
AUD
plus GST
In Stock
Details
Re-cored PC850-8 intercooler with Hi-Tech Radiators's heavy duty plate & bar style cores.
Komatsu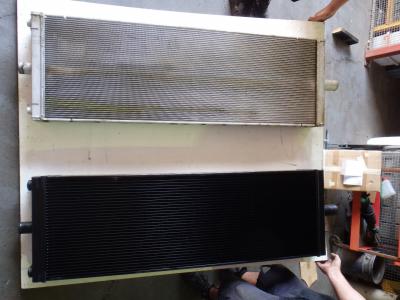 Location
Archerfield, Queensland, Australia
Price
$​
4,480
AUD
plus GST
In Stock
Details
Complete PC850-8 radiator manufactured as a brass complete conversion to be direct replacement to original aluminium tube and fin construction.

Available within 2 working days.
Komatsu
It looks like we couldn't find any matching parts or components
We have an extensive network of component providers across the globe and can help you source any part you need, no matter how hard to find.
Contact us today and one of our sourcing specialists will assist you to find exactly what you need.
Engine
Horsepower, Gross - SAE J1995 (kW)
370
Horsepower, Net - ISO 9249 (kW)
363
Horsepower, Net - SAE J1349 (kW)
363
Fan drive method
Hydraulic
Displacement (litre)
15.24
Related information
Komatsu water-cooled, turbocharged, after-cooled, cooled Exhaust Gas Recirculation (EGR), Tier lll, common rail direct injection diesel engine.​
Weights
Operating weight - total (kg)
​79,800 
Bucket weight – (kg)
on request as required
Quick hitch weight – (kg)
on request as required
Operation / Application
Boom size (m) & type
​7.100 Super Excavation
Arm size (m) & type
2.900 Super Excavation
Bucket size – standard GP (m3)
4.5
Arm crowd force – ISO (kgf)
34800
Bucket crowd force – ISO (kgf)
43900
Digging depth – maximum (mm)
7130
Digging reach – maximum (mm)
12265
Maximum reach @ ground level (mm)
11945
Related information
For more information on bucket and attachment solutions, refer to your local Komatsu branch/representative.
Driveline and Swing
Drawbar pull, maximum (kg)
​57000
Travel speeds (km/h)
2.8 / 4.2
Related information
The travel speed control has an automatic function.
Undercarriage
Shoe size & type
​610mm double grouser
Hydraulic System
Type
Open -centre Load Sensing
Economy sub-mode selections
4
Main pump type
Variable-capacity piston 
Maximum flow rate (ltr/min)
988
Related information
Open-center load-sensing system with selectable work modes, including a two mode boom setting to maximise digging force when required. An arm quick return circuit also enables quicker cycle time for increased production. 
Dimensions (transport position)
Length, overall (mm)
​13130
Track length on ground (mm)
4500
Overall track width (mm)
4110
Related information
Overall height is at transport position.
Service information
Communication systems
Internal maintenance monitoring
Yes​
KOMTRAX Satellite tracking
Yes
Standard Fitment
ENGINE & RELATED ITEMS
Komatsu SAA6D140E-5 engine.
Air cleaner, double element, dry type, with 5 step dust indicator.
Air pre-cleaner, Enginaire.
Variable speed cooling fan with reverse rotation cleaning.
ELECTRICAL SYSTEM
Alternator, 24V, 90 Ampere.
Batteries, large capacity.
Starter motor, 24V, 11kW.
Voltage reducer 24v to 12v, in cabin with socket.
TRAVEL & BRAKE SYSTEM
Travel speed control, 2-stage automatic.
UNDERCARRIAGE
Track rollers, single flanged.
Track shoes, 610mm double grouser with sealed and greased track links.
PROTECTORS, GUARDS AND COVERS
Engine side covers, perforated (RHS).
Cabin guard, Overhead Protective Guard (OPGII), bolt on type.
Track frame under cover.
Full length track roller guards.
Revolving frame underguard
HYDRAULICS & CONTROLS
Electronic open-centre load sensing hydraulics.
Control levers; boom, arm, bucket and swing with Proportional Pressure Control (PPC) system.
Control levers and pedals for steering and travel with PPC system.
Full flow in-line filter for hydraulic circuit.
Boom setting, dual mode.
Shockless boom control.
Heavy lift mode.
Swing priority setting.
Power maximizing system.
SPECIAL ARRANGEMENTS
EPA Tier III regulation arrangement.
EU III emission regulation arrangement.
Hard water area arrangement (corrosion resistor).
Poor fuel arrangement (water separator).
SAFETY EQUIPMENT
Rearview mirror, RH and LH.
Hand rails and non-slip grip surfaces.
Camera, factory fitted, single, rear, (plus wiring for additional).
Catwalk, left hand side, for cabin access and egress.
Catwalk, handrail, with 100mm kickrail and flexbase.
Handrail, full deck, with 100mm kickrail & flexbase.
Emergency stops, factory fitted, (Qty - 3).
Beacon, rotating type with guard.
OPERATOR ENVIRONMENT
Cabin, large high rigid type with viscous damper mounts, lockable, fixed RH and rear windows, provision for vandal covers.
Large LCD colour monitor.
Mode multi selection function buttons & eco-gauge.
Equipment Management Monitoring System (EMMS).
Seat, fully adjustable suspension type, fabric, with reclining and tiltable arm rests.
Seat belt, 78mm.
Air conditioner, automatic.
Radio, AM/FM, domestic frequency range
OTHER STANDARD EQUIPMENT
Markings and caution plates for Australia/NZ.
Painting, Komatsu standard colouring.
Working light, additional, front.
Travel alarm.
Komatsu Machine Tracking System, (KOMTRAX).
WORK EQUIPMENT
Boom assembly, 7,100mm, Super Excavation (SE) version with 2 x boom cylinders and 1 x arm cylinder.
Arm assembly, 2,900mm, SE version, with 1 x bucket cylinder.
Counterweight, standard, 12,000kg.
Request a Quote
Searching for components or parts for your PC850-8?
We source and sell components globally, so tell us what you need and one of our component specialists will be in contact shortly.
---